BLOOD BANKING ANALYZERS AND REAGENTS
Industry-leading throughput, high efficiency, reliable performance
Built on a foundation of trusted PK innovation, our immunohematology and blood banking test instrumentation and reagents deliver accuracy while streamlining workflow and easing maintenance.
As the company that delivered the first automated blood bank analyzer, we continue to advance care, designing technology for confident results delivery and improved laboratory productivity.
Discover a 30-year history of reliability with an exclusive terraced microplate design for hemagglutination, and a testing menu that includes ABO/Rh testing, Rh and Kell phenotyping, syphilis (TP) and cytomegalovirus screening
Boost testing efficiency with the highest throughput available of any high-volume donor center system
Optimize testing by applying reagents created specifically for the PK7300 system and its terraced microplate technology
Gain access to Grifols serological red blood cell reagents for conventional techniques and internal quality control needs†
Benefit from the convenience and customer-focused care of knowledgeable service and support representatives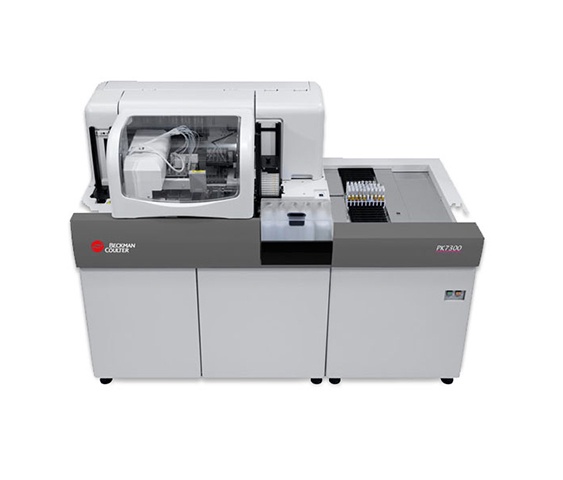 PK7300
Analyzer
Support high-volume use with unequalled throughput via fully automated batch testing, proven agglutination technology and exclusive terraced plates.
Learn more
---
PK7300
PK7300 System Accessories & Parts
PK7300 Blood Grouping Reagents
PK7300 Reagent Red Blood Cells
PK CMV-PA Systems and Controls
PK TP System and Controls
Grifols Reagents
Reagents
High quality products suitable for all blood banks and labs. Conduct reverse typing, antibody screening and antibody identification with a wide range of reagent red blood cells from Grifols Diagnostics, distributed by Beckman Coulter.
Learn more
---
Ready to use
Stable for 35 days (storage at 2–8°C)
Available on standing order at 4-week intervals (13 times per year)